Samuel T. Johnson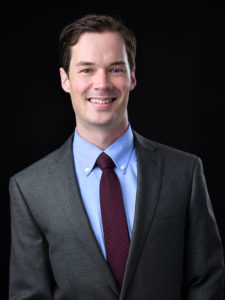 My legal practice focuses on "Year 15 disputes" in Low-Income Housing Tax Credit (LIHTC) litigation. My professional goal is to help clients resolve complex legal disputes in their favor with unwavering advocacy, tireless focus, and high-quality work product. I also aim to instill the peace of mind and sense of confidence that comes from knowing an attorney is representing you through relentless work ethic and a competitive spirit. Almost as important to me as relieving the burden of high-stakes litigation is a friendly and collegial demeanor, building relationships with clients by maintaining active communication. In the end, although no one wants to find themselves embroiled in conflict, if it happens you want someone you can trust and trust to do the job right—that's where I come in.
Prior to BC Davenport, I spent three years, including the first fifteen months of the pandemic, as a law clerk to the Honorable Daniel C. Moreno in Minnesota's Hennepin County District Court. I spent one and a half years in a civil litigation setting and another one and a half in a felony person criminal rotation. My clerkship offered an amazing variety of unique cases, from contract and defamation disputes to murder trials. I can now draw on my time in district court and utilize the breadth of those experiences to think creatively about LIHTC litigation.
I was born and raised in Minnesota, growing up in St. Paul, going to college at Gustavus Adolphus, and attending the University of Minnesota Law School. During law school I secured a Minnesota Justice Foundation Summer Fellowship as a certified student attorney working for indigent clients, volunteered with the Asylum Law Project to help process asylum applications in Tacoma, Washington, and taught Street Law to students at Johnson Senior High School in St. Paul, Minnesota. I also served as an editor on the ABA Journal of Labor & Employment Law, and spent a semester in Uppsala, Sweden studying European medical and environmental law, respectively. In my free time I enjoy gardening, the outdoors, music, and reading. Every year I try to explore the magic of the Boundary Waters Canoe Area or the other natural wonders of my beloved state.
Education and Bar Admissions
University of Minnesota Law School, J.D., 2018
Editor, A.B.A. Journal of Labor & Employment Law
Street Law Instructor
Gustavus Adolphus College, B.A. in Political Science, 2013
Bar Admissions: Minnesota, 2018
Associations and Memberships
American Bar Association
Minnesota State Bar Association
Hennepin County Bar Association
Honors and Awards
University of Minnesota Legal Writing Honors
Minnesota Justice Foundation Summer Fellowship