Justin H. Jenkins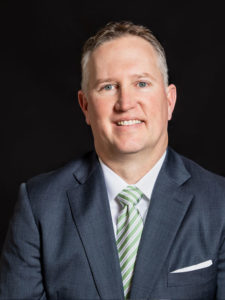 During my first week as a lawyer, I found myself in the court room, staring up at a judge waiting to argue a motion, nervous as a long-tailed cat in a room full of rocking chairs.  I argued that motion, prevailed for my client, and fell in love with the court room.  I've been a trial lawyer ever since.  And I no longer fear those rocking chairs.
Now, sixteen years later, I continue to fight for my clients in the court room and beyond.  I've tried many jury and bench trials, as well as arbitrations, across the United States, which have allowed me to excel in representing my clients in disputes involving Low Income Housing Tax Credit ("LIHTC") partnerships, Trusts and Estates, financial services and real estate/construction projects.
In the LIHTC industry, I represent real estate developers, including non-profit and for-profit developers, to help them preserve affordable housing as their projects, exit the LIHTC 15-year Compliance Period.  Many such clients find themselves faced off against investor partners who were not the original partners to the projects who acquired pools of partnership interests around the country – known in the industry as Aggregators – that use any means necessary to extract unintended residual value from LIHTC partnerships.  There are insufficient levels of affordable housing in the United States and fighting this growing practice, and preserving the existing (and future) affordable housing projects, is paramount to meeting the housing needs of the nation.
When it comes to Trusts and Estates, I help families, Trustees, Personal Representatives, and businesses navigate the high-stress, life-altering disputes that arise when family members and business leaders become incapacitated or pass away.  While I always seek out amicable business resolutions or to preserve family relationships for my clients, sometimes clients are unable to resolve things outside of the court room.  My clients can trust that if we cannot find that amicable resolution, that I will fight harder than anyone to protect their interests and to achieve the outcome they deserve.
I also counsel clients in real estate and construction disputes, representing both developers, property owners and real estate investors in litigation of all types.
Outside of work, it's always family first, then football – especially my Longhorns – and golf.
Education and Bar Admissions
Texas Tech University School of Law, J.D., 2005
Texas Tech University Rawls College of Business, M.B.A., 2005
St. Mary's University, B.A., 2002
Bar Admissions
Supreme Court of Texas, 2005
Supreme Court of Minnesota, 2011
Supreme Court of New York, 2019
U.S. District Court, S.D. Tex., 2006
U.S. Bankruptcy Court, N.D. Tex., 2006
U.S. Bankruptcy Court, E.D. Tex., 2006
U.S. Bankruptcy Court, W.D. Tex., 2006
U.S. Bankruptcy Court, S.D. Tex., 2006
U.S. District Court, N.D. Tex., 2006
U.S. District Court, E.D. Tex., 2006
U.S. District Court, W.D. Tex., 2007
U.S. District Court, D. Minn., 2012
U.S. District Court, S.D.N.Y., 2020
U.S. District Court, E.D.N.Y., 2020
Associations and Memberships
State Bar of Texas
Dallas Bar Association
Federal Bar Association
State Bar of New York
State Bar of Minnesota
Athletes Committed to Educating Students (ACES)
Non-profit, Board of Directors, 2015-2018
Honors and Publications
Rising Stars, Minnesota Super Lawyers®, 2013-2019
Attorney of the Year", Minnesota Lawyer 2020
The Best Lawyers in America©, Litigation – Trusts & Estates, 2021